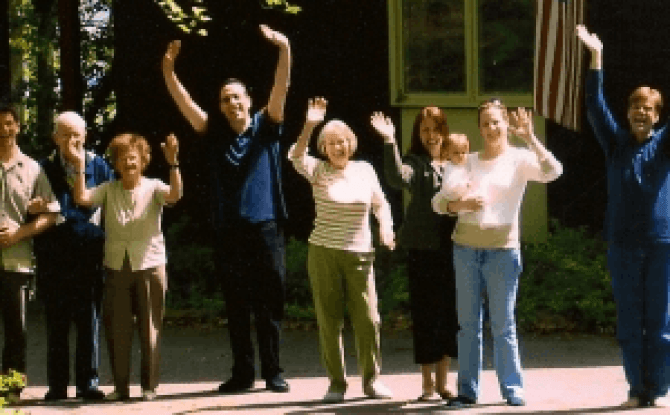 The Family I Never Thought I'd Have
By Anthony M. Brown – November 21, 2015
What is it about families?   Wars have been fought over them. History has been made because of them. Comedians and therapists have made millions talking about them. But when it all boils down, family makes us who we are, whether standing with them or running from them.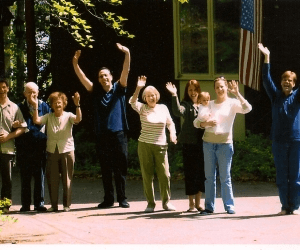 My husband Gary's blind Aunt Elda died about 5 years ago. We got her cancer diagnosis a year or so  before her death, and it took a while for it to hit home that there was no successful treatment for her ovarian/GI cancer. She had lived outside Gary's family for many years, in large part due to her husband Chuck. Chuck was perhaps the most prejudiced, bigoted, intolerant man I had ever met. His willingness to make racist or homophobic statements in my husband's and my presence was almost as strong as his love for Elda. But he physically removed Elda from the family by moving out of state and at one point actually said to her, "you better hope you die first because your family will never be there for you." Chuck died first.  And we were there for her.
In the perfect ironic twist, Chuck's mentor and most respected business manager, a man named Ralph Thomas, was also my father's best friend. He cringed when I would talk about Ralph and his wife in very personal terms as I saw them often before my father died. On Uncle Chuck's deathbed, everything changed.
Chuck had suffered a series of strokes, the last one leaving him unable to communicate. Gary and I were visiting him in the hospital when I noticed that he was agitated. I knew from my father's deathbed experience how to shift a person up in the bed by lifting the small blanket placed under the patient and on top of the bed linens. I asked Chuck if he wanted to move up. He blinked his eyes rapidly. Gary and I lifted the blanket, and Chuck, successfully up in the bed. As our eyes met, I could swear I saw him crying and with that, a world of misunderstanding and homophobia flew right out the hospital window.
I don't know what chuck would have made of the fact that I am a donor dad and have two beautiful little girls with two wonderful women who are their parents or that my husband and I have a son  who has a surrogate mom, but both my family and Gary's family get it.  And it couldn't have happened at a better time.
Gary's father throughout this time had been enduring a prolonged battle with Parkinson's disease, which, toward the end of his life, left him mentally aware, yet unable to communicate. If he could have, he would have probably yelled. Italians yell, that's just the way it is. It took me, a southern WASP, years of therapy to realize that Gary's screaming had more to do with his heritage than anything I may have done. He learned that from his parents. And while they didn't really communicate, they yelled, A LOT.
Even with the Parkinson's, Gary's parents yelled at each other. It used to bother me, but now I get it. While home over one weekend fairly close to may father-in-law's death, we watched the ultimate tearjerker movie, The Notebook, based on the novel by Nicholas Sparks. It tells the tale of a man who reads a handwritten story to a woman in a nursing home everyday until she realizes, through her dementia, that it is their love story. For a few minutes, she remembers, then he is a stranger again.
At the conclusion of the movie, Gary's mom was sitting in Gary's lap, both crying, and I was holding my father-in-law's hand, also crying. Tears everywhere. Gary's parents hugged each other and, in a moment that I will remember for the rest of my life, Gary's dad, who had not been able to communicate clearly for months,  looked at his wife of over 60 years and said, "I didn't know that this was what you've been dealing with.   I am sorry." In that amazing, crystalline moment – we all lost it. Gary's mom replied that she loved him and that she wanted to take care of him. Gary and I hugged while this exchange occurred knowing that a gift had just been given to everyone in that room.
Enter Michael, Gary's older brother, who had been watching this whole emotional experience transpire with his then girlfriend, now wife, Xiao from the other room. Xiao is Chinese and had never met a gay person, much less a gay couple, before dating Michael. They had only been dating for a few months when this happened. Michael told me that Xiao had also seen the hug–fest and asked, "How long have Tony and Gary been together?" Michael replied, "almost 20 years." Xiao said, "Do you think we will be like that in 20 years?" Michael said, "I hope so."
Regardless what people think about their in-laws, there are lessons to be learned from them, joys and sorrows to be experienced because of them. These are the things that only a family can provide and while many on the less tolerant side of the aisle would either discount or misunderstand my family, no one can change the fact that I am married to a man and that I married into a family that loves and respects both me and my husband. I have children that will learn their values from this amazing family and my children will continue to teach me theirs.  It doesn't get much better than that.
Anthony M. Brown currently heads the Nontraditional Family and Estates Law division of the law firm of Albert W. Chianese & Associates, PC, specializing in estate planning and second and step-parent adoptions. Anthony is the Board Chariman of Men Having Babies, and is the Executive Director of The Wedding Party.  He can be reached at: Anthony@timeforfamilies.com.
About MHB
Men Having Babies, Inc. is a nonprofit organization that was spun off in July 2012 from a program that ran at the NYC LGBT Center since 2005. It started as a peer support network for biological gay fathers and fathers-to-be, offering monthly workshops and an annual seminar. Over time, elaborate online resources were developed, the group's mailing list expanded to about 2000 couples and singles from around the world, and it teamed up with LGBT family associations to develop similar programs in Chicago, San Francisco, LA, Barcelona, Tel Aviv and Brussels.
Our mission includes:
The provision of educational and practical information to assist gay prospective parents achieve biological parenting.
Promoting the affordability of surrogacy related services for gay men through financial assistance and the encouragement of transparency and customer feedback.
Promoting surrogacy practices that minimize the risks and maximize the potential short and long-term benefits to all involved.
Raising awareness about the potential benefits and meaningful relationships surrogacy arrangements can bring about.
Beyond the seminars and workshops, Men Having Babies runs several programs to promote its educational, advocacy and affordability mission, including:
Assistance in academic studies about gay parenting and surrogacy.

Who am I? On the deepest level, I am blessed. I have an amazing partner, who I have known since 1989 and been married to since 2004. I am the donor dad of two beautiful daughters who have two moms who are equally amazing. My husband and I have expanded our family through surrogacy and have a seven-year old son. I have had three careers (acting, massage therapy and the law) and I am still discovering myself. I am the Board Chair of Men Having Babies. The one thing I know for sure is that life is about trusting your instincts. Family is an instinct.

Latest posts by Anthony Brown (see all)