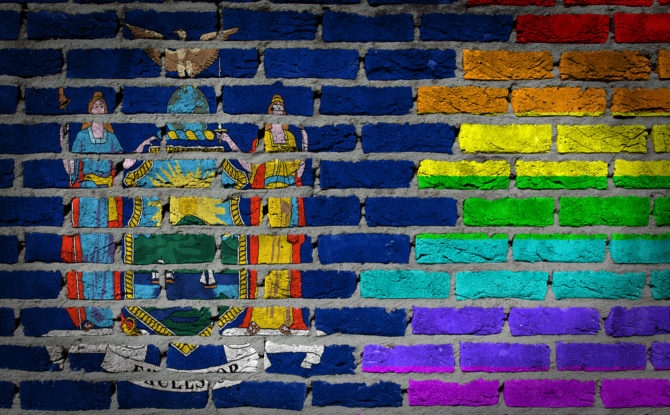 New York's Changing Family Law
New York's changing family law finally appears to be catching up to the realities of LGBT families, at least incrementally.
A series of decisions from various New York courts is informing New York's changing family law in ways never before imagined. Currently, in Manhattan, a court is struggling with how best to protect a child born in Ethiopia, which would only allow a single mother to adopt, now that his lesbian parents have split up. Another recent decision out of the Kings County Family Court is one of the first to acknowledge the complexities of how we create our families, and offers sage advice as to how best we can protect them.

This new line of cases comes hot on the heels of the New York Court of Appeals case known as The Matter of Brooke S.B., which I have written about extensively. Up until this decision, many lesbian parents who had not adopted the biological children of their partners or spouses were considered legal strangers to the children that they had raised since birth. They were blocked by the court from seeking custody and visitation when their relationships faltered. The Matter of Brooke S.B brings New York's changing family law in line with many other states which recognize "de facto" parents for the purpose of custody and visitation and prioritizes the best interests of the child in making these critical decisions.
The court in Brooke S.B. was careful not to expand the definition of parentage beyond the facts of each specific case, which means that we will be seeing more and more litigation attempting to address situations that do not fall squarely in the fact pattern of Brooke S.B., like the current case in Manhattan.
In a move to address confusion created by a 2013 decision from Kings County Surrogates Court, where Judge Margarita Lopez Torres denied a lesbian couple a step parent adoption because she held that a marital presumption of parentage existed when a child is born to a married couple, Brooklyn Family Court has offered its opinion. New York's Appellate division, Second Department held the opposite of Lopez Torres (Paczkowski v. Paczkowski, — N.Y.S.3d —- (2015)), creating much confusion for the LGBT community. Brooklyn Family Court Judicial Hearing Officer (JHO) Harold Ross, in a decision titled The Matter of L., et. al, held that as long as uncertainty exists for LGBT couples who create their families with assisted reproductive technology (ART), then second parent adoptions are the best way to secure those families from this uncertainty.
The bottom line of New York's changing family law is that with each new case that tests the limits of the court's definition of family, hundreds of thousands, if not millions, of dollars will be spent to "make new law," when there already exists a remedy that is affordable and is respected across the country and around the world, second and step parent adoption. The process may be time consuming but the benefit is priceless and I believe that JHO Ross understood this and made New York's changing family law easier for us all to grasp.
For more information, contact Anthony@timeforfamilies.com.
Contact Time For Families

Who am I? On the deepest level, I am blessed. I have an amazing partner, who I have known since 1989 and been married to since 2004. I am the donor dad of two beautiful daughters who have two moms who are equally amazing. My husband and I have expanded our family through surrogacy and have a seven-year old son. I have had three careers (acting, massage therapy and the law) and I am still discovering myself. I am the Board Chair of Men Having Babies. The one thing I know for sure is that life is about trusting your instincts. Family is an instinct.

Latest posts by Anthony Brown (see all)