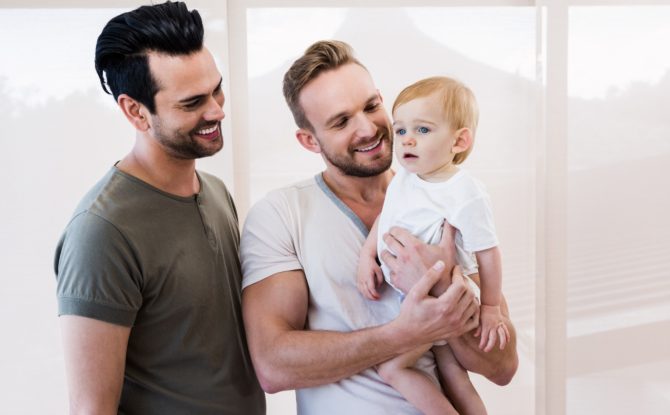 Gay Parents Adoption – New Possibilities
Gay parents adoption used to be unheard of.
While certain countries still struggle with the concept of our families being equal to all others, in America, the foundation for gay parents adopting has been set and the legal protections for these families are available and critical to creating security in these family structures.  There are several means by which gay parents adoption can occur. I will review the most common: private adoption, public adoption and second or step parent adoption.
Private Adoption – There are several reasons that parents looking to adopt a child may look into private adoption, sometimes referred to as domestic adoption. The availability of children is higher than most people expect.  In the most recent year for which accurate data exists, there were over 18,000 domestic non-relative adoptions of newborns within the United States. Although the number of people placing their children for adoption has fallen dramatically since the 1970s due to the stigma of single-parenthood thankfully decreasing, there are still many birth parents making the painful but loving choice to look for a family for their biological child.
The adoption of the child can be done in one of two ways. The first is to engage an agency to walk you through the process and to help you with paperwork and the emotional upheaval that such a big life decision will inevitably bring. The benefits to involving an agency are numerous; for example, having your own 'Adoption Specialist' who will help you communicate with the various other professionals who need to be involved in the process such as social workers, physicians and lawyers. Financial assistance may be available to help cover legal fees, and agencies often do not charge to process the adoption.
The second is a private arrangement whereby a birth mother and prospective parents arrange the adoption between themselves. They will have to hire lawyers and meet the legal requirements of adoption such as age, ability to care for the child and other important aspects. Parents who want to adopt are able to 'advertise' for a birth mother, and mothers who have chosen adoption for their child are able to do the same for an adoptive family.
Public Adoption – Foster children are in the legal custody of a commissioner of a social services district. That district may give responsibility for the care of the child to a voluntary authorized agency. When a child is in foster care, decisions must be made regarding the long-range permanency plan for the child. If the social services district decides that it would not be in the child's best interests to return home and that the child should be adopted, steps must be taken to legally free the child for adoption.
There are three ways a child can become legally free for gay parents adoption: 1) the birth parents can sign a voluntary surrender agreement; 2) the social services district responsible for the child can bring a case in court asking the judge to terminate the parental rights of the birth parents; or 3) if both birth parents are deceased, or one parent is deceased and there is no other parent whose consent to the adoption is required, the child is automatically free for adoption.  Read more at the NY State Office of Children and Family Services, the source of this information.
Second or Step Parent Adoption – One increasingly popular methods for gay parents adoption is when one parent has a biologically related child of their own and their partner or spouse adopts that child.  If the couple is not married it is referred to as a "second parent adoption" and if they are married, it is referred to as a "step parent adoption."   For both gay and lesbian couples, securing the legal rights of a non-biological parent is crucial to create the kind of emotional, and legal, security that most other families take for granted. The legality of both parents relationship to their child is often assumed. Parents are parents, regardless of the biological connection to your child.
While recent case law is catching up to our families, it is still lagging in the ability to create complete security without adoption, or a birth order from a competent jurisdiction.  Whichever path you choose to having your family, It is critical to speak with an attorney with experience in the field.  When you consider gay parent adoption, please consider me a resource. For more information on family estate planning, contact Anthony M. Brown at Time for Families and speak to a specialist family lawyer to secure your and your family's future.
Contact Time For Families

Who am I? On the deepest level, I am blessed. I have an amazing partner, who I have known since 1989 and been married to since 2004. I am the donor dad of two beautiful daughters who have two moms who are equally amazing. My husband and I have expanded our family through surrogacy and have a seven-year old son. I have had three careers (acting, massage therapy and the law) and I am still discovering myself. I am the Board Chair of Men Having Babies. The one thing I know for sure is that life is about trusting your instincts. Family is an instinct.

Latest posts by Anthony Brown (see all)